For the past few years (ever since I graduated college and became self-employed), Fridays lost a little bit of their appeal.
Their zest if you will.
Without classes and a boss other than myself, along with the husband being incredibly busy with law school, all the days seem to roll into each other, making some sort of week-long blob.
(how's that for a run-on sentence?)
But ever since John started working a 9-5 this summer (more like a 7:30-6:30) and has weekends mostly off, Fridays are a lot more exciting around these parts.
So I am linking up with
Lauren
for 'High Five For Friday!'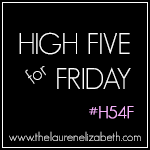 /one\
Tonight we are having a picnic in one of the squares in the historic district of Savannah, followed by a book reading by one of my favorite podcasters/storytellers. We are going to see Dan Kennedy from the Moth Podcast talk about his new book, American Spirit and regal us with tall tales and charming antidotes.
Sidenote: I have to leave in 45 minutes to go get John and I am still unshowered, in my workout clothes. I may have been caught up in a game show about musical chairs and I lost track of time. Whoops!
Double sidenote: If my mom was here right now, I know that she would say that I got 'tv hypnotized' and then start shouting '45 minutes!!' She likes it when people stay on track and get out the door on time.
/two\
I finally got to pick up a copy of the June issue of Southern Living Magazine.
I found it, in all places, a gas station in the middle of nowhere Georgia.
One of the boutiques that I sell at had a little shout-out in it, so I wanted to purchase it, hoping that my jewelry items would be in the photo.
No such luck, but still pretty awesome that it was mentioned as one of the best places to shop in Atlanta.
/three\
Tomorrow I have big plans to go running for the first time in forever. I think I have ran once, maybe twice, since the marathon in mid-march. I'm only going to go for 2-2.5 miles and with the summer humidity and heat, that is already seeming like a lot.
With all that said though, I am looking forward to starting to run again.
/four\
Tomorrow morning we have an excursion planned to the Savannah farmer's market again.
Every Friday they send out an email letting you know what's going to be there and I saw today that someone is going to be there tomorrow selling some watermelon juice.
My favorite fruit of alllll time and I can eat it in public without looking like a pig.
/five\
I finished the hat that I was knitting for John.
You know, the totally necessary, completely useful, 100% wool hat for summer.
Maybe I can get him to model it before October, but not very likely.
Have a great weekend everyone!
~ With Love, Ashlee ~
PS... I now have 25 minutes until I have to walk out the door. Showering might not be an option anymore.